So... yesterday was the best work day EVER. There are two clients that we interpret for ( there are 3 of us, which makes it pretty much amazing) were both absent. So, at first, I was upset that we had to go in at all. But... I basically just made my husband's life 100% easier. I looked on the Tiffany&Co's website, and not only found him my birthday wish, but also, "hey you just pushed out a human, here's a present" wish. Both are simple, and adorable.
Because he should want me to have a VERY Happy Birthday:

Photobucket" border="0">
and....
Ear Rings for allowing a human to grow inside of me:

Photobucket" border="0">
I've been obsessed with that ring style since the first time I met my
MiL
. She has this amazingly simply yet beautiful silver ring, from
Sundance
, and its discontinued! Jerks! Anyway, I have my "love the life you live" one, and it's nice, I love it, but I just love Tiffany's more. I swear I'm not a prissy girl that only likes
jewelry
for a gift, but since our wedding, my DH has just been good about
Tiffanys
! And, it just makes for an easy gift picking experience for him. So, really? I'm just trying to keep the guy happy. :)
So, after the Tiffany's experience..... we decided to go to lunch. But first, one of the other interpreters, Rachel, wanted to go look at some shoes at
payless
, and like I'd ever refuse shoe shopping? Yeah right. So, we all went! Becky and I rode together, and followed
Rach
, because she had to go to a professional development thing... I still don't know what it is exactly... but anyway. We got to
Payless
, and I was cracking up. We were all aisles away from
each other
. I'm telling you, it was funny. So after an unsuccessful journey for shoe shopping, we tried on sunglasses.
This is Becky as an old man, and myself, as an old lady. I don't really think this is the case, but she insisted that she looked like an old man, in
aviators
.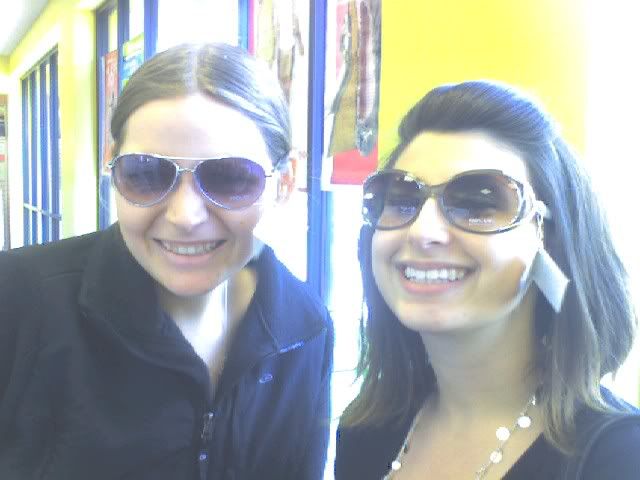 Photobucket" border="0">
And this is me, after buying the old man aviators.
hah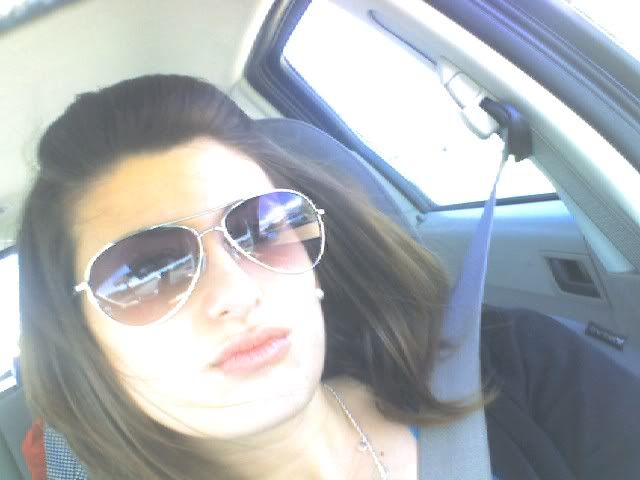 Photobucket" border="0">
After that, we went to
Applebees
. I have been craving french onion soup from
panara
since.... about week 6, and I was VERY excited when I saw it on the menu for the bees! But, sadly, it wasn't the same. My spinach and shrimp salad was good though. :) Baby wanted
mozzarella
sticks....
ok
I lied. I wanted them.
haha
.. but I ate quite healthy..go me!
And just now, my DH called and gave me the worlds best news! The slut is gone!!!!
wooooohoooooo
!